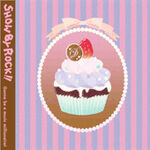 Song title
Smile:)
Band
Dolly Dolci
Composer(s)
James Panda Jr.
Japanese
Romaji
English
天気予報は曇りのち良いお天気よ


ヘッドフォンからはいつもの大好きな歌
ノートの切れ端溢れる思いを書いた
あたしらしさってなにって今の宿題

譲れない願い とまらない たった一度だけ
君の 最高の人生が始まる

諦めない 泣かない 翼なんかなくても
退屈したくないでしょ 振り向かない いつでも
信じてるよ 未来は 僕らを待っている
君は一人じゃないよ 手をつないだら 
涙拭いて行こう My friend

目覚まし時計は今日も朝から元気ね
昨日の悲しい夢ならもう忘れたよ
定期に入れてる写真はあの時のまま
ひとりぼっちの夜今は慣れてしまった

地図のない未来 怯えてたほんの少しだけ
いつも 沢山のSmileをありがとう

諦めない 泣かない 太陽を見つけて
カバンにつめた過去は 荷物になるよ 要らない
受けた傷は 消えるよ 怖いならそばに居る
後悔しない誓い 顔を上げたら
星を探すんだ

カメラには写らない 気持ちを大事にしたいの
背中のばして歩きだす 明日のドアの鍵はきっと開いてる

諦めない 泣かない ピンチだってチャンスよ
前向きばかりじゃ 疲れちゃうかもでも 逃げない
迷いながら 僕らは 大人になれるかな
大きく息をすって 蝋燭消して
光みつけよう I believe

Tenkeyohō wa kumori nochi yoi wo tenki yo


HEADPHONE kara wa itsumo no daisukina uta
NOTE no kirehashi afureru omoi o kaita
Atashirashisatte nanitte ima no shukudai

Yuzurenai negai tomaranaitatta ichidodake
Kimi no saikō no jinsei ga hajimaru

Akiramenai nakanai tsubasa nanka nakute mo
Taikutsu shitakunaidesho furimukanai itsu demo
Shinjiteru yo mirai wa bokura wo matte iru
Kimi wa hitorijanaiyo te wo tsunaidara
Namida fuite ikou MY FRIEND

Mezamashidokei wa kyō mo asa kara genki ne
Kinō no kanashī yumenara mō wasureta yo
Teiki ni ire teru shashin wa ano toki no mama
Hitoribotchinoyoru ima wa narete shimatta

Chizu no nai mirai obie teta honnosukoshidake
Itsumo takusan no SMILE wo arigatō

Akiramenai nakanai taiyō o mitsukete
Kaban ni tsumeta kako wa nimotsu ni naru yo iranai
Uketa kizu wa kieru yo kowainara soba ni iru
Kōkaishinai chikaigao wo agetara
Hoshi o sagasu nda

CAMERA ni wa utsuranai kimochi o daiji ni shitai no
Senaka no ba shite aruki dasu ashita no doa no kagi wa kitto ai teru

Akiramenai nakanai PINCH datte CHANCE yo
Maemuki bakari ja Tsukare chau kamo demo nigenai
Mayoinagara bokura wa otona ni nareru ka na
ōkiku iki o sutte rōsoku keshite
Hikari mitsukeyou I BELIEVE

The weather forecast says it's going to be cloudy, putting me in a good mood


In my headphones, my favorite song is playing as usual
I've written down my overflowing thoughts on torn pieces of my notebook
Today's homework is "Describe what kind of person you are"

Just this once, don't hold back your unwavering wishes
The best part of your life is about to begin

Don't give up, don't cry! Even if you don't have wings,
You don't want to get bored right? So don't look back, ever!
I believe in you! The future is waiting for us
You're not alone! If you hold my hand
Your tears will dry, so let's go, my friend

Today too, my alarm clock is full of spirit in the morning
I've already forgotten about yesterday's sad dreams
Inside them, the pictures I keep seeing are just like back then
By now, I've gotten used to those nights spent on my own

I was afraid, if just a little, of this future of which we own no map
Thank you for all the smiles you've always given me

Don't give up, don't cry! Find the sun!
The past that's stuffed into you bag is becoming a burden, you don't need it
The wounds you've suffered will heal; if you're scared, I'll stay by your side
Promise me you'll leave your regrets, and if you raise your eyes,
You can look for the stars

Those feelings I want to cherish cannot be captured on camera
Stand tall as you start walking, I'm sure the door to tomorrow is unlocked

Don't give up, don't cry! Even in a pinch, there are still opportunities!
If you keep on facing forward, you may get tired, but don't run away!
Perhaps it's because we doubt that we're able to become adults
Take a deep breath and blow out the candle!
Let's find the light! I believe
Ad blocker interference detected!
Wikia is a free-to-use site that makes money from advertising. We have a modified experience for viewers using ad blockers

Wikia is not accessible if you've made further modifications. Remove the custom ad blocker rule(s) and the page will load as expected.