THE NEW LIVE Haraiku
THE NEW LIVE ハライク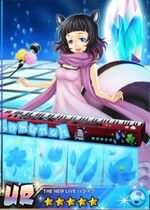 Singing is fun~. It came out very cheerful, somehow~
Initial Stats

:182

:1967

:399


:523

:435
Final Stats

:543

:22350

:4089


:5258

:3389
Active Skill
C Soul Burst ☆ 4
35% chance of 4000 extra boss damage after 40 note combo
Passive Skill
THE NEW LIVE Haraiku
1.2x score for all markers.
The Sky, Wind, Water and Haraiku
空と風と水とハライク
Fufu, the wind feels good. Let's all sing together~
Initial Stats

:312

:2015

:301


:655

:275
Final Stats

:

:

:


:

:
Active Skill
P Score Boost☆4
Score +600 points after 40 PERFECT notes.
Passive Skill
The Sky, Wind, Water and Haraiku
Fever gauge accumulates faster.
Ad blocker interference detected!
Wikia is a free-to-use site that makes money from advertising. We have a modified experience for viewers using ad blockers

Wikia is not accessible if you've made further modifications. Remove the custom ad blocker rule(s) and the page will load as expected.